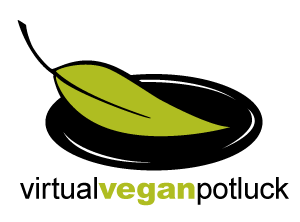 I'm so excited today to be participating in my first Virtual Vegan Potluck!
It's always a little nerve wracking attending a party that you've never been to before with a bunch of people you don't know.
I had no idea what to bring.  Or what to wear.
And I had to promise myself to go easy on the peach schnapps lest there be some awkward Facebook photos cropping up tomorrow morning.
The first part turned out to be pretty easy.  I decided to bring soup (stew actually)!
Tomorrow is Mother's Day and this sweet, rich, spicy and delicious recipe is courtesy of my mother – everything I know about cooking I learned from her.  Make it on a chilly day and watch the snow or rain fall outside.
Caribbean Sweet Potato Stew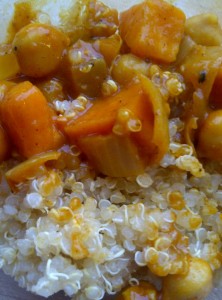 Ingredients
1 tbsp oil (olive or coconut)
3 garlic cloves, finely chopped
2 tbsp fresh ginger, finely chopped
1 to 2 tsp Asian-style hot chili paste/sauce
3 tbsp curry powder
1/4 tsp cinnamon
1/4 tsp ground cardamom
1/4 tsp allspice
1/2 tsp sea salt
2 cups Spanish onion chopped into big chunks (approx 1 large onion)
1/2 cup water
1 28oz can diced tomatoes with juices
3 cups sweet potatoes chopped into big chunks (approx sweet potatoes)
1 and 1/2 cups celery chopped into big chunks (approx 2 – 3 stalks)
2 cups carrots chopped into big chunks (approx 4 -5 carrots)
2 tbsp Dijon mustard
2 tsp sesame oil
1 cup coconut milk (not light)
1 19oz can chickpeas, drained and rinsed
handful frozen peas or fresh greens (optional)
Instructions
Heat oil in a large pot over medium-low heat. Add onion and cook for a minute or less just to warm through.
Add curry powder, cinnamon, ground cardamom, allspice and salt and heat through.
Add water and stir, let heat through for a minute or so.
Add garlic, ginger, carrots, sweet potatoes, celery. Stir well.
Add canned tomatoes, coconut milk, mustard and sesame oil. Stir some more.
Reduce heat to simmer and cover. Allow to cook for 30 minutes or so until vegetables are cooked (soft when pierced with a fork).
Enjoy!
Now that you've seen my recipe, have some fun checking out the others in the potluck!
Before me was Fitting Into Vegan
And after me comes Soup and Such
To start the potluck from the beginning, visit Vegan Bloggers Unite
Now, off you go and enjoy the rest of the potluck…
…I still have no idea what to wear and I can't make any promises about the peach schnapps.